One of the biggest, most challenging, and rewarding projects for which Fiegen Construction was recently selected is the University of South Dakota's Sanford Coyote Sports Center.
Fiegen Construction provided construction management services for the $55 million, 185,000-square-foot basketball and volleyball arena addition to USD's existing Dakota Dome in Vermillion, South Dakota.
This massive, high-profile facility, which opened ahead of the 2016-17 athletic season, hosts the men's and women's basketball teams, as well as the volleyball team.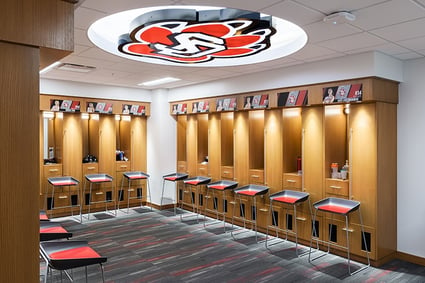 The arena houses a main competition court surrounded by 6,000 spectator seats including integrated club space. There are also two full-size practice courts, locker rooms, offices, a film room, and meeting rooms. The facility contains a state-of-the-art sports medicine training room and a 7,500-square-foot weight room with all the latest equipment. The training room includes hydro therapy, a biomechanics lab, and a physical therapy and rehabilitation center.
Inside the facility, you will find the University of South Dakota's Science, Health, and Research Lab. The lab is a centralized location for occupational therapy (OT), physical therapy (PT), Kinesiology and Sport Science (KSS), and Sports Medicine programs. There are collaborative spaces for the various programs, as well as cutting-edge classrooms, a laboratory, and clinical spaces.
Fiegen Construction's project superintendent for the Sports Center was Dennis Millar; the project manager was Jarrett Hallvin.
This large project's architectural services were performed by Architecture Incorporated and Populous; structural engineering services from SEA, Inc. and Meyer, Borgman, Johnson; and civil engineering services from Sayre Associates.
Unique challenges included the necessity to stabilize soils in advance of construction, a requirement aided by the addition of aggregate to correct subsoil conditions.
And it was a red letter day (fitting since USD's school colors are red and white) when the 200-foot steel span roof trusses over the main court in the complex were erected. For safety as well as ease of erection, the trusses were assembled on an adjacent flat roof and slid into place over the arena clear span.
The project took nearly 20 months to complete—a major feat considering various construction challenges and the multiplicity of facilities, labs, offices, and related spaces required for the complex.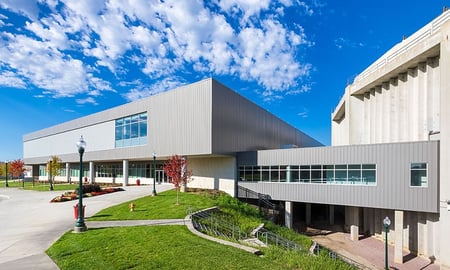 Originally dubbed the "USD Sports Complex" when the project commenced, a name change was soon announced. Sanford Health, which enjoys a longstanding supportive relationship with the university and its athletic departments, secured the naming rights to the new facility. Earlier, Sanford Health had made a $20 million donation which launched the development of an arena; a science, health and research lab; and an outdoor track and soccer complex in 2012.
"It is only fitting that as we close in on the completion of our facility project, that we put a name on the arena and celebrate the progress and vision of USD and Sanford Health," said USD Athletic Director David Herbster. "The Sanford Coyote Sports Center will not only benefit student-athletes, but it will ultimately enrich the academic experience of our students for generations to come."
Fortunately, Fiegen's experience and expertise in unique construction—which focuses on increased flexibility and teamwork—helped at many stages as the project proceeded through a series of challenging construction phases.
We're proud of our work on this amazing new facility at USD—and delighted to have won the praise of university staff.
"Fiegen Construction is a big reason this facility is up and running—you're great people to work with," Herbster wrote to us. "I cannot say enough about what you helped us accomplish here on campus."
That was music to our ears—which we are sure featured the USD marching band!
How do things progress on a project of this size and scope? Have a look below at this time lapse video of the construction process. It's amazing!

MORE PHOTOS: Check out this project profile page for more photos of this project >>
---
Founded in 1967, Fiegen Construction Co. is a family-owned and operated business with an excellent reputation for quality, on time performance and innovation.
---