After more than three years in the planning stage, construction has begun on a new headquarters for Gage Brothers in Sioux Falls, South Dakota. Fiegen Construction will work hand in hand with Gage Brothers on the $40 million facility, which is slated for completion in January 2019.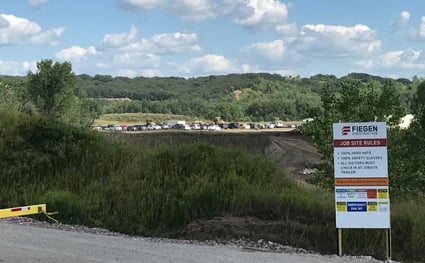 Gage Brothers, a highly-respected firm with a reputation for exceptional concrete construction work earned over more than a century in business, will now be building a new home for itself.
This large and prominent project expected to be a boon to the local economy, calls for the construction of a 210,000-square-foot headquarters and plant on a 45-acre site located in northeast Sioux Falls. The plant itself will be the most automated and efficient precast plant in North America when finished and the facility will increase Gage's manufacturing capacity by as much as 60 percent. The plan also calls for a large cafeteria, locker rooms, and conference and collaborative areas.
A July groundbreaking at the new site at 2800 North Bahnson Avenue kicked off the construction phase. When the new facility is completed, Gage Brothers will move from its current 12th Street location, where it has operated since its founding in 1915.
"We're very pleased we were chosen to work on this fantastic new Gage facility," said president Jeff Fiegen. "And we're working with an exceptionally talented and committed team."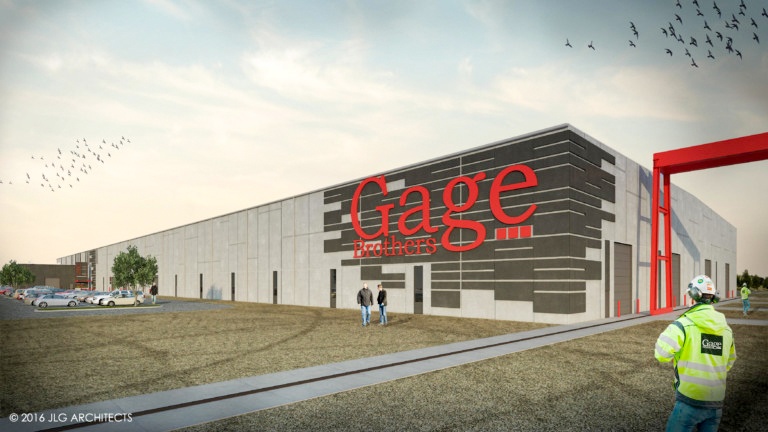 Fiegen noted that not only will the new facility be visually attractive, but efficiency will be greatly expanded. The consolidated headquarters and plant—designed by JLG Architects—will bring machinery and employees together in one location in contrast to current operations which are dispersed among 16 separate buildings. While today 45 percent of production employees work outdoors, the new facility will allow up to 95 percent of Gage Brothers' production workers to be indoors.
In an interview with the Sioux Falls Argus Leader, Gage Brothers president Tom Kelley revealed that business growth had exceeded existing capacity to the point where the company had to turn away work. The new manufacturing facility will correct this, and also allow the company to expand beyond South Dakota, Minnesota, and Iowa, where nearly all of the company's work is currently based.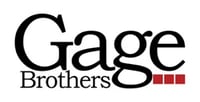 "For more than 100 years, Gage Brothers has maintained a significant manufacturing presence in Sioux Falls, and we look forward to building on that legacy through the construction of our new, cutting-edge plant," Kelley said. "The automation improvements will be a game-changer. What we call "flying buckets" will deliver concrete to pouring stations, reducing production and delivery times by a third. It's a method relatively new to the U.S."
Kelley also anticipated benefits for Gage Brothers employees, who currently number about 250.
"Automation will empower our workforce by streamlining processes and helping them to do their jobs more efficiently," Kelley added. "I believe this technology will not only make jobs easier, it will also take away many mundane tasks which will create opportunities for more flexible and fulfilling work."
Fiegen Construction will handle construction management with help from Gage Brothers for the precast concrete project. "To say we're excited to see this unique project unfold is an understatement," Fiegen said. "We're always grateful for opportunities like this."
Stay tuned as the Gage Brothers' new headquarters and plant project proceeds—we will keep you updated here.
---
Founded in 1967, Fiegen Construction Co. is a family-owned and operated business with an excellent reputation for quality, on time performance and innovation.
---