Cutler Law, one of South Dakota's premier legal firms, recently hosted a wonderful party — the firm's well-attended ribbon cutting on May 31, 2018. The event, co-hosted by the Sioux Falls Area Chamber of Commerce, was a celebration of the official opening of the firm's brand new headquarters on the fourth floor of the recently renovated Equity Trust Building in downtown Sioux Falls.
Located at 140 North Phillips Avenue, the building is a downtown focal point in South Dakota's largest city. Fiegen Construction was retained for the project, which called for the renovation of 13,575 square feet of office space, including the entire fourth floor plus 1,475 square feet of space on the third floor. The $1 million project (not including flooring and casework) involved extensive interior remodeling and tenant fit-out for the respected law firm.
Stunning New Offices for a Sterling Law Firm
A full-service law firm established in 1997, Cutler Law Firm, LLP is home to 20 lawyers whose expertise ranges from corporate and business law to personal injury, commercial litigation, and family law.
"We're excited," attorney Kent Cutler told Sioux Falls Business just after the plan was announced. "We've got 20 lawyers now, with another starting after law school, so it will be nice to have some additional space. And we'll all be on one floor, which will be nice for us."
Previous to the renovation in the Equity Trust Building and the move to new quarters, the firm's staff had been split among three floors in the former Great Western Building on the opposite of the same block, where it had been located for 20 years.
"Being on the river with a deck is really nice, plus there's the potential of hopefully having a nice restaurant on the first floor and having the railroad area redevelop over the next five, 10, 15 years. I think it will make that part of downtown feel a little more central and like the heart of downtown over time," Cutler said.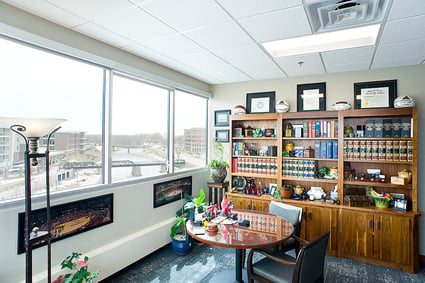 Downtown Sioux Falls is ground zero for business, finance, government, arts, culture, and historic architecture in the city, offering a richly diverse range of dining, shopping, lodging, housing, education and entertainment opportunities.
Known as a prosperous, safe, attractive, well-maintained destination with easy access and convenient parking, downtown Sioux Falls has experienced an expanding number of downtown jobs in recent years. This growth has spurred the renovation of many underutilized buildings to accommodate exciting new residential units, as well as parks, restaurants, and cultural venues including outdoor art displays and other public spaces.
Four Month Timeline: Ready, Set, Go!
The timeline for creating a scope of work and completing the renovation was tight — just four months. Project work started in mid-October, 2017 and was finished by mid-February, 2018.
Fiegen Construction's crew included Project Superintendent Adam Zdrilic and Project Manager Trent Christiansen. Architectural services were provided by Koch Hazard Architects, also located on Phillips Avenue in downtown Sioux Falls.
Driving the expedited work schedule was the Cutler Law Firm's lease for its existing offices, which had a fixed and immovable date for move-out. This put the entire project team on a fast-track program to efficiently schedule subcontractors, materials deliveries, and work items. Ensuring adequate manpower was critical at each stage of the project.
"The entire team worked together to accomplish each milestone," noted Christiansen. "There were some tense days, to be sure. But it was a seamless effort, with all of us working as one well-oiled operation to get the job done within deadline parameters while never sacrificing the quality of the work."
Fantastic Views and Great, New Features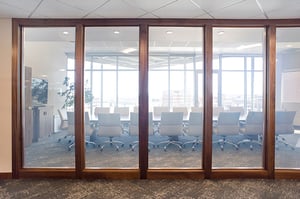 Today, Cutler Law Firm attorneys work in beautiful new surroundings where everything has been designed to provide both work efficiency and aesthetic appeal.
"The offices have fantastic views of the downtown and the river," said Zdrilic. "It's an ideal location. Looking out the windows — no matter the season — is a real treat for the firm's staff and also its clients."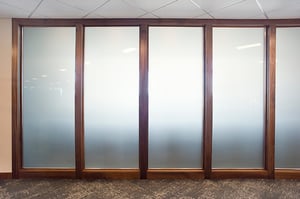 An interesting new feature of the firm's offices is use of high-tech privacy walls in the conference rooms. At the flick of a switch, dividing wall glass transforms from clear and transparent to opaque, providing privacy when it is desired. New finishes, furniture, and other amenities create an environment that is as elegant as it is efficient.
Zdrilic believes both firms understand how to do quality work on a fast track. "Cutler does law and Fiegen does construction," he said. "Those are very different specialities. But both of our companies know how to serve clients by bearing down and getting big jobs done on time."