Denny Sanford's name is on buildings all over Sioux Falls, South Dakota. Now, he has a building dedicated to telling his personal story. And, Fiegen Construction is delighted to have built this remarkable structure.
The Sanford House was designed to be a permanent home to capture the spirit and history of T. Denny Sanford and his singular achievements in giving back to the community. Supported by the private philanthropy of donors inspired by Sanford's generosity, construction of the 18,000-square-foot Sanford House began in October, 2016 and was completed one year later. The total square footage of the building and associated amenities is 57,104 square feet.
The $6 million edifice and grounds today welcome visitors of all ages who are invited to explore dynamic displays and exhibits that illustrate the far-reaching impact of Mr. Sanford's extraordinary generosity and his commitment to the transformative power of giving.
The Power of Philanthropy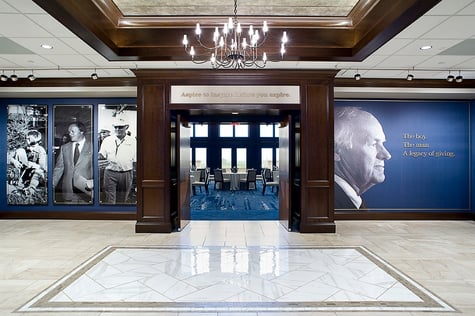 Sanford made his fortune as the owner of First Premier Bank and Premier Bankcard, both among the nation's leading credit card providers.
Sanford, one of the nation's most generous and best-known philanthropists, made waves when he donated $400 million to Sioux Valley Hospitals and Health System, later renamed Sanford Health. Sanford has committed to The Giving Pledge — pledging to give away at least half of his wealth to charitable causes.
Sanford is not just a wealthy man. He's an interesting, inspired, and unpretentious man. Here's what the popular Inside Philanthropy website noted in an article giving advice about approaching Sanford with an investment proposal:
"Well, let's start with what not to do. Don't be obtuse. Don't try to sophisticate your proposal with unnecessary flowery language. This guy eats at McDonald's and drove a Dodge Caravan until his embarrassed staff persuaded him to buy an Audi.
Sanford likes earnestness, and he likes children's initiatives. He lost his mother when he was four years old. He started working afternoons and weekends at age 8. This is a guy who puts a high value on a kid's privilege to be a kid­ — to be free from responsibility and worry and pain.
When he started down the road of charitable giving, he started by pouring money into pediatric hospital care and similar projects: $2 million to the Children's Home Society of South Dakota in 1998; $16 million to Sioux Valley Health for a new children's hospital in 2002; $400 million to that same hospital five years later. The hospital, as you might expect, is now called Sanford Health, and it's reported to look like a cross between a pediatric Mayo Clinic and Disneyland."
A Big Story in Sioux Falls — and Beyond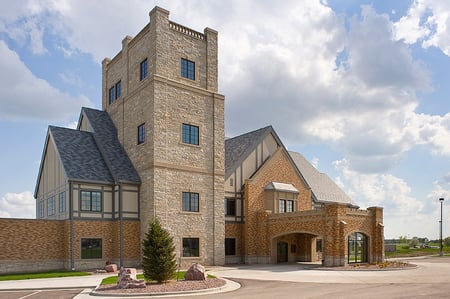 The Sioux Falls Argus Leader newspaper tracked progress on the project from day one:
"The Sanford House, the $6 million future home of the Sanford Foundation, will serve as something of a working shrine to Sanford, the billionaire philanthropist whose donations have fueled the growth of the Sanford Health system and after whom the system was renamed.
Micah Aberson, Sanford Health chief global brand officer gave the Sioux Falls Business Journal a tour of the under-construction 18,000-square-foot building, designed by Architecture Incorporated and built by Fiegen Construction.
"The idea is to memorialize Denny and his philanthropic legacy story," Aberson said. "We've likened it to a mini-presidential library."
The story of Sanford and his impending "philanthropy campus" spread far and wide.
Once in a Lifetime Project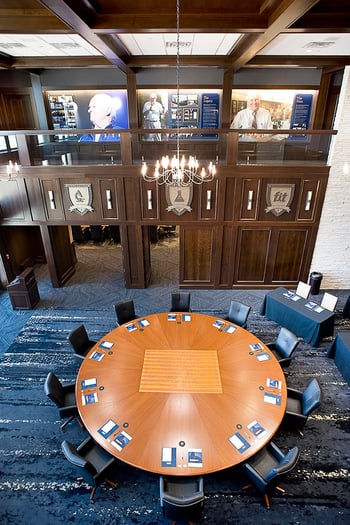 Fiegen Construction knew from the get-go that it was working on a once in a lifetime project.
"Not only was this a substantial construction project, it was one of a kind," said Fiegen Project Manager Jarrett Hallvin. "The parameters of this project — from the size to the special features — were very unique."
Fiegen's team included Hallvin; Project Superintendent Dennis Millar; architectural firm Architecture, Inc.; and three engineering companies: SEA, Inc. (structural engineering), Associated Consulting Engineering, Inc.(mechanical/electrical/plumbing engineering), and Stockwell Engineers (civil engineering/surveying).
The project involved an accelerated design and bid package system that proceeded at the same time as final design specifications were being developed, fine-tuned and approved.
The 40-acre campus of the Sanford House sits prominently on the South Dakota prairie amidst grassland, ponds, and horse pastures. The structure — a two-story Gothic inspired stone and brick building with a three-story signature Sanford Tower — called for a dramatic front entrance. The building's central area, called Legacy Hall, seats 60 people under a lofty ceiling, with a broad wall of southward-facing windows looking out over a series of patios and the lake outside. The central hall extends to the second-floor ceiling, and the catwalks surrounding the second-floor overlooks tell Sanford's personal story, from his childhood to his business career and touted philanthropy.
The hall is ringed by several rooms, including an open-concept room seating 15-20 people that serves as a home for the Sanford International Board. One lounge is devoted to mementos of Sanford's golfing and sailing experiences and achievements.
The second floor of the Sanford House houses Sanford Health Foundation leadership and 30 Foundation employees. It also includes two conference rooms named after Sanford's vacation homes. "Desert Vista" is named after his home in Scottsdale, Arizona, and "Mountain View" is named after Sanford's residence in Vail, Colorado.
The address of the Sanford House is 2335 Road to the Cure, referring to both the goal of Mr. Sanford's philanthropy and his birthday: December 23, 1935.
A Towering Achievement Needs a Tower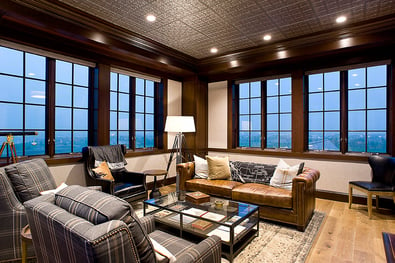 One of the most interesting features of the structure is the tower. At the peak of the building's tower is what staff call "Denny's Den." It is 42 feet above the second floor and commands a view of the lake and grounds.
"It's an office for Sanford, as long as he wants to utilize it, for as long as we have the benefit of him being around," Aberson said.
The 75-foot overall tower height was a tricky aspect of the project, requiring Fiegen to construct specialty scaffolding that allowed completion of the masonry work on the tall structure.
"That was one of the most challenging aspects of the project," said Millar. "But it was exciting to work on such a unique idea."