According to the Associated General Contractors of South Dakota, a commercial construction industry trade group, there are currently 24,000 construction jobs in South Dakota. Those jobs provide an average salary of $45,247 per year, and the current median age of a construction tradesman in South Dakota is 41.
"That last statistic is alarming," according to Lucas Fiegen, AIA, Vice President of Fiegen Construction. "We already know we have an industry-wide labor shortage, but our current workers are aging out faster than new workers entering the industry."
Lucas is a third-generation construction professional. An Architect who grew up in Sioux Falls, he has worked in the industry for more than a decade—working, among others, with his father, Jeff, and uncle, Rusty. "I serve on several boards and committees throughout our region and I am seeing all of these organizations naming workforce development a top priority for Sioux Falls and South Dakota," notes Lucas.
Fiegen Construction has taken a pro-active approach to developing a new generation of future workers. They are currently working with staff and students at O'Gorman High School to bolster its industrial arts program. In recent years, the O'Gorman program dwindled as students had little-to-no interest in learning these skills. Alex Anderson, Assistant Principal at O'Gorman explains, "The classes didn't draw very much interest, and then we no longer had an instructor, so we had a year where we didn't offer any courses."
A 2006 graduate of O'Gorman High School, Lucas remembers, "When I was in school, our shop class consisted of creating a project, whether it be a table or a book shelf. Now, we are thinking about shop class becoming more of a lesson in the building trades—building walls and framing doors and windows into useful structures."
Renovating the Shop
Over the summer, with help from Electric Supply and other local firms, the Fiegen team renovated the school's old shop space with new, white paint and brighter, more efficient overhead lighting. Next, they purchased tools, equipment, safety gear and other resources that would be needed by the students and their new instructor, Jeff Rhone, Owner of Woodworks Construction, LLC and parent of O'Gorman students. Rhone has more than a decade of experience as a woodworker and cabinet builder.
In August, Anderson invited Fiegen to attend O'Gorman's orientation to explain the new industrial arts program—and its potential—to the students. "Once we found an instructor, then we started partnering with Fiegen Construction to identify what those classes would look like," says Anderson. The class curriculum was outlined and Fiegen talked to the students about the value of learning building techniques and the opportunities that are currently available for people with these skills. Sixty students signed up for the program.
Zachary Bain, a senior who enrolled in the program is excited about the new skills he is learning. "From my freshman year to my senior year the shop has changed completely thanks to Fiegen Construction. It is awesome!"
Currently underway, the first semester includes two industrial arts courses: Intro to Building Construction and Carpentry. "Next semester will feature a class on Interior Build-Outs where students will learn how to hang and tape sheetrock, do finish carpentry and interior painting," adds Lucas.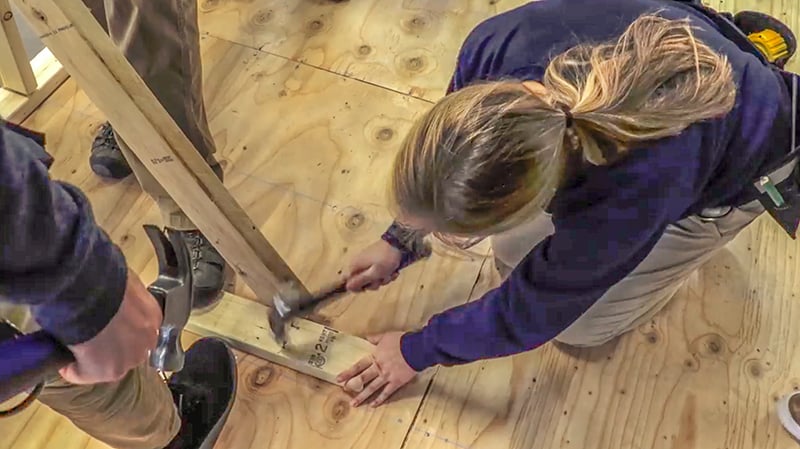 Olivia Althoff is a senior who would like to become an Architect. "I am interested in an architecture career or a design career and I took the architecture class last year. When I saw this class, I thought that it would be nice to see how buildings are actually built and get a little hands-on experience in that field."
In November, Fiegen Construction invited the students to tour an active construction site—the new Gage Brothers manufacturing plant and corporate offices. Students were able to see how the skills they learned in the classroom are used in a real-world setting, on a much grander scale. "I have learned a lot about the process of a building coming together and I think that's really important with an Architect putting together plans, making sure that they understand how the builders know what the Architect is thinking. So, I will definitely use this knowledge as I go off to college and study this area," says Althoff.
The students have already constructed four sheds. One of them will be auctioned off at O'Gorman's annual fundraising event. The other three will be available for purchase by members of the community.
"I'll tell you this, we don't exist right now—this program—without Fiegen Construction," added Anderson. The Fiegen Team knows that these young people are the future of Sioux Falls.

AGC Construction Exploration Program
Another workforce development initiative that Fiegen Construction supports is the AGC Construction Exploration Program. Through this collaborative program between Southeast Tech and area construction leaders, students can enroll in a summer hands-on Construction Exploration program that will give them the chance to earn while they learn.
A blend of classroom instruction, laboratory experience and on-the-job training, students have the opportunity to learn from the best in the business and potentially secure great paying, full-time employment after high school.
"High school students interview with construction professionals to determine job requirements and opportunities. If selected, the student receives paid training including classroom instruction, lab construction projects and on-the-job training," says Bryce Healy, AGC of South Dakota Executive Director.

Rusty Fiegen, Vice President of Fiegen Construction is a Past President and current Board Member of Associated General Contractors (AGC) of South Dakota, Building Chapter. "In our first year with this program, Fiegen Construction selected Elizabeth Searles as our apprentice," says Rusty. "Ms. Searles was paired with Fiegen superintendent Adam Zdrilic who provided her on-the-job-training. Given the success we experienced with Elizabeth this summer, not only have we requested her for her second year, we have also asked to sponsor additional student at the first year level," adds Rusty.
Other AGC of South Dakota programs include "Construction Awareness Day" where local high school students join AGC of South Dakota and its members for a hands-on day of learning about the many different careers in the industry by participating in various activities, such as operating heavy equipment, mixing concrete, participating in a carpentry skills course and operating equipment simulators.
Moving Forward
Forward Sioux Falls is the proven and successful joint venture economic development partnership between the Sioux Falls Area Chamber of Commerce and the Sioux Falls Development Foundation, whose Workforce Information Now (WIN) initiative focuses on promoting career opportunities, entrepreneurship, skilled trades, networking and helping workers find jobs.
"Fiegen Construction has been a passionate supporter of the Forward Sioux Falls initiative since 1992 and we are extremely grateful for the partnership we share," notes Mike Lynch, Forward Sioux Falls' Director of Investor Relations. "Their ongoing investment toward this impactful economic development program is a testament of the value they place upon making our community a better place to live, work and play. Not only has Fiegen Construction shown significant financial support for programmatic activity, but also have volunteered their time and talent during campaigns to convey how Forward Sioux Falls continues to positively cultivate the workforce dynamic, now and in the future."
Sioux Falls continues to break building permit records. In 2018, more than $743 million in building permits have been secured, up from $739 million in 2017. Now, more than ever, a strong construction workforce is necessary to maintain steady growth and prosperity in the region.
"Collectively, we are meeting our objective to grow, develop and recruit a robust workforce and ultimately, take our region to a new level of excellence," adds Lynch. "Ultimately, recent successes we've experienced in Sioux Falls can be directly attributed to organizations such as Fiegen Construction who serve as the driving force behind this momentum."
The construction industry is the nation's largest single industry employing more people and contributing more money to America's bottom line than any other single industry. Lucas adds, "In 2017, the construction industry contributed $2.06 billion to the gross domestic product of South Dakota. Just 15 years before that, the number was half. As Sioux Falls undergoes a revitalization and more areas around the city develop, we need trained professionals—whether they are Architects, project managers, painters, electricians, plumbers or crane operators—to fill the positions that will be created to foster growth and redevelopment."