Before the University of South Dakota's Coyotes moved the ball down the field to win its 2017 Homecoming match-up against Youngstown State, Fiegen Construction was charged with moving a different ball to the goal line. The University of South Dakota Foundation asked the Fiegen design-build team to complete interior and exterior renovations to the Foundation's Wagner Alumni Center, home to both the foundation and the USD Alumni Association.
The $1.3 million project encompassed a total interior renovation, along with many exterior upgrades. The project called for all new finishes, new LED lighting, and new duct work. Opening up the center's Great Room to provide a feature wall was an inspired idea, providing an aesthetic focal point. Exterior work included the design and construction of jasper stone columns as well as wainscoting which brought the building into congruity with the look and style of other buildings on campus. A new backlit glazing system around the canopy and cupola was also installed, to create a stunning visual effect. The Fiegen crew also opened up the front façade by demolishing one wall and installing new storefront glazing.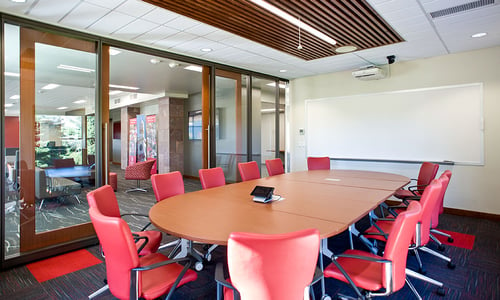 Construction work began April 17 and was completed on time and within budget by September 22. That was more than a week before thousands of people flooded the campus for USD's famed Homecoming "Dakota Days" parade and festivities, time-honored events recently extolled by USD's most famous graduate, longtime NBC anchor and managing editor Tom Brokaw. "Dakota Days" attracts many alumni, donors, parents, and friends to the campus in Vermilion and was an excellent showcase for the newly-renovated Wagner Alumni Center.
Since 1922, the University of South Dakota Foundation has provided generous private resources to the university to increase the excellence of its students' educational experiences. Since 2014, Onward: The Campaign for South Dakota, headed by president and CEO Steve Brown, has raised more than $250 million in donor funds for the state's flagship university. Through the generous support of alumni and friends, the success of the campaign has led to numerous campus improvements, close to 250 new scholarships to attract outstanding students, additional faculty support, and enrichment programs that provide research and travel opportunities for students and faculty.
"Although our Foundation has a strong professional staff, its success is a tribute to the dedicated support of alumni and friends of USD, the many volunteers who have served as officers, and trustees and members of the board," notes Brown. "The future holds even greater promise as we continue to build on USD's reputation as one of the nation's highest quality comprehensive state universities."
Fiegen Project Superintendent Duane Beck, Project Manager John Schaefer, and Architect Lucas Fiegen, AIA, handled a multitude of challenges, including rallying engineering expertise for the exterior glazing system. Structural engineer Mark Smith of Structural Engineering Associates (SEA, Inc.) played a pivotal role in creating successful innovations. Despite a tight schedule and inevitable unforeseen issues, Fiegen was able to navigate a tricky water infiltration problem, replace failing ductwork, and tediously remove old wall coverings in preparation for new interior paint and finishes.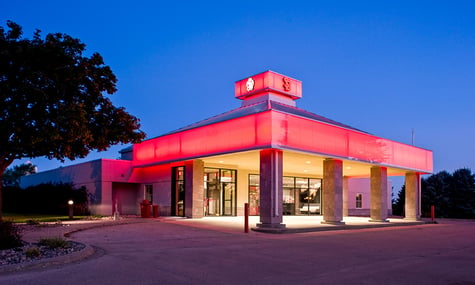 "Working on the Wagner Center was such a fun design-build project for us," notes Lucas Fiegen. "We were given the architectural freedom to produce a complete vision for the USD Foundation and I think we were able to do so. That vote of confidence meant a lot—and brought out our best work."
Earning accolades from our clients is important to Fiegen Construction. We are pleased that the foundation is happy in its re-envisioned building.
"Fiegen Construction staff were friendly, communicative, and well-informed through each phase," said Brown. "Amazing attention was given to every detail—from creating the design to the finishing touches. Visitors to our offices have praised the transformation and our staff members are proud of their 'new' home."
Today, the Fiegen project crew members feel like honorary Coyotes. "The USD Foundation put a lot of trust in us to transform an outdated space into a welcoming center for visitors worthy of their monumental work," Fiegen said. "We could not be happier to have worked alongside them throughout this project."
See more project photos here >
---
Founded in 1967, Fiegen Construction Co. is a family-owned and operated business with an excellent reputation for quality, on time performance and innovation.
---