Fiegen Construction had an opportunity to take on a project that doesn't come along very often: helping a television station get up and running in its brand new quarters.
KSFY-TV teamed up with Fiegen Construction and Koch Hazard Architects for the design and renovation of approximately 20,500-square-feet of space on the first and second floors of the Courthouse Square building in downtown Sioux Falls, South Dakota. This design-build project called for construction of a state-of-the-art studio with production facilities and offices, support spaces, and a newsroom with a glass feature wall.
One of the most challenging aspects of the $3.2 million project turned out to be the design and construction of an offsite satellite farm to support the station in its new quarters.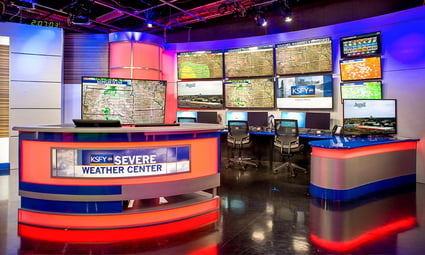 The first floor at the Courthouse Square location houses the television studio, the newsroom, and various production facilities. The second floor is home to the sales department and executive offices.
KSFY was thrilled about the opportunities afforded by the television's new facilities.
"We built the finest cutting-edge facility in the region," said KSFY General Manager Jim Berman. "Our goal was to create a new station that would become a destination attracting and retaining the best and brightest talent in the business, but most importantly, enhancing our ability to serve our viewers and advertisers at the highest level."
The new location allows KSFY to maintain its presence in downtown Sioux Falls. Since 1972, KSFY's studio and operations had been housed in the 300 Building on North Dakota Avenue.
"Staying in downtown Sioux Falls was paramount when we started discussions about options for a new location," Berman said. "This is the heartbeat of the city and the best place to base our operations."
Build-out had to be carefully timed. Extensive planning and coordination were required because access to several areas was very limited due to the extremely secure requirements of several of the building's existing tenants.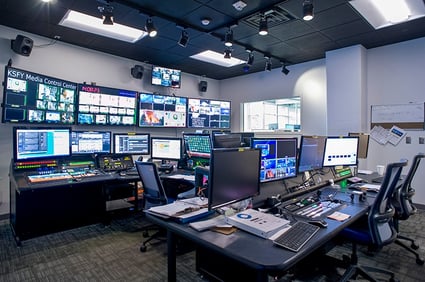 "This required massive amounts of coordination by the entire team when it came to mechanical and electrical work performed on the building systems common to all tenants," noted Rusty Fiegen, vice president of Fiegen Construction. "Shut downs of any kind had to be few—and as brief as possible."
Fiegen Construction's extensive design-build experience allowed for quick turnaround on changing circumstances. Design-build can reduce cost and increase flexibility—a major benefit on the KSFY project. Our project superintendent was Aldon Van De Stroet; project manager was Terry Boomsma. Team architect was Koch Hazard Architects with mechanical/electrical engineering services by Associated Consulting Engineering, Inc. We also worked with structural engineering firm RISE Structural Associates, Inc.
The logistical issues with multiple satellite dishes—originally slated to be located on the roof of the building—were challenging, too. The satellite dishes had to be repositioned to a remote site due to security requirements of the existing tenants, a late-breaking stipulation discovered just months before the stations' launch date. But a solution was expeditiously created. After KSFY station owner Gray Television located and purchased land with fiber optic availability, Fiegen created an entire second team to complete all required scopes of work for the satellite dish site in time for the launch date.
KSFY was happy with our team's work.
"The Fiegen team was terrific to work with and worked with us effectively on any late adjustments we needed to make," said Berman. "We gave them a very aggressive timeline and Fiegen was able to deliver the project to us on time and under budget. Thanks in large part to Fiegen Construction and the incredible team it assembled, we now have one of the finest broadcast facilities in the country. Fiegen Construction gets our highest recommendation!"
KSFY-TV is an ABC-affiliated television station licensed to Sioux Falls, South Dakota, United States. It broadcasts a high-definition digital signal on VHF channel 13 (also the station's virtual channel via Program and System Information Protocol, known as PSIP) from a transmitter near Rowena, South Dakota.
"It was an exciting project for us," Fiegen said. "Working for television stations is a rare experience. This project allowed us to use the strength of our team and decades of design-build experience to get the job done."
MORE PHOTOS: Check out this project profile page for more photos of this project >>
---
Founded in 1967, Fiegen Construction Co. is a family-owned and operated business with an excellent reputation for quality, on time performance and innovation.
---